~ Helping Educate Children ~

Click Here to Make a Small Donation
---
ABOUT THE BROOKSIDE GIVES BACK FUND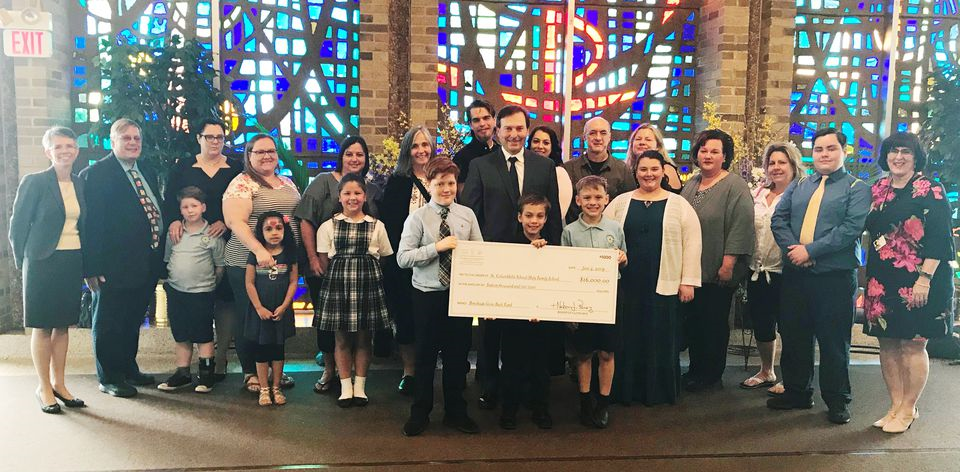 Brookside President Chris Anselmo presenting the 2019 tuition assistance grants.

The Brookside Gives Back Fund of the Catholic Community Foundation has been established by Brookside Tax & Financial Group, LLC to provide tuition assistance for families in need who desire a Catholic education for their children. Distributions from
the Fund will help students enrolled in Catholic elementary schools located within the Independence, Parma, and Berea school districts.
Click Here to view a recent article published by Cleveland.com regarding the 2019 tuition grants presented to students of Holy Family & St. Columbkille Schools in Parma.
Are you interested in joining our mission? You can make a difference by making a small donation today. Click Here to donate now, because learning can't wait.

---
Brookside Gives Back Fund distributes $12,000 to aid Catholic school students.
View article here.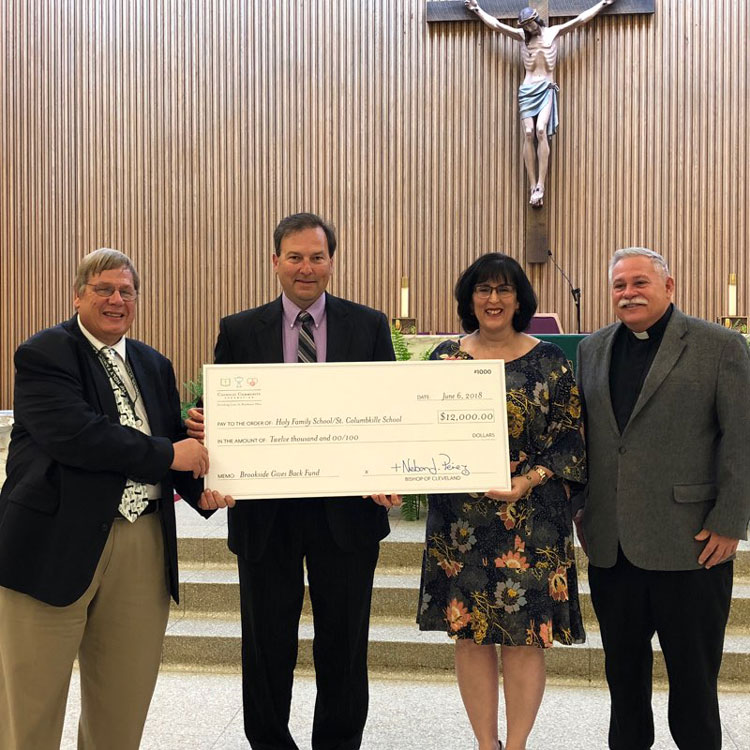 ---
CATHOLIC EDUCATION IN THE DIOCESE OF CLEVELAND
"Let the children come to me and do not prevent them; for the kingdom of God belongs
to such as these." (Lk 18:16)
With the Gospel at its heart, Catholic schools provide a loving, nurturing environment where the entire community of parents, teachers, students, and supporters are committed to academic and personal success.
The Catholic Diocese of Cleveland is the fifth largest Catholic School system in the United States and the largest private or public school system in the state of Ohio. More than 3,100 students receive need-based tuition assistance annually, thanks to the generosity of donors who believe in the value of Catholic education.
---
ABOUT THE CATHOLIC COMMUNITY FOUNDATION
Dedicated to enriching the lives of others by encouraging faithful philanthropy, the Catholic Community Foundation helps donors continue Jesus' mission on earth by connecting their support to ministries and services of the Diocese of Cleveland, including Catholic Charities, Catholic Education, and Catholic Worship & Formation. The Catholic Community Foundation was established in the year 2000 as a 501(c)3 organization. Learn more at www.catholiccommunity.org.
---
HOW TO DONATE
Gifts to the Brookside Gives Back Fund can be made by check, credit card, stock or other assets. Checks should be made payable to Catholic Community Foundation.*
By phone: Mary Lou Ozimek, 216-696-6525 x4070 or Chris Anselmo 440-886-3550
By mail: Catholic Community Foundation / 1404 East Ninth Street / Cleveland, OH 44114
In Person: Offices of Brookside Tax & Financial Group, LLC
Online: Click Here to Make a Small Donation
*Please indicate "for the benefit of the Brookside Gives Back Fund" in the check memo or in a note included with your gift.